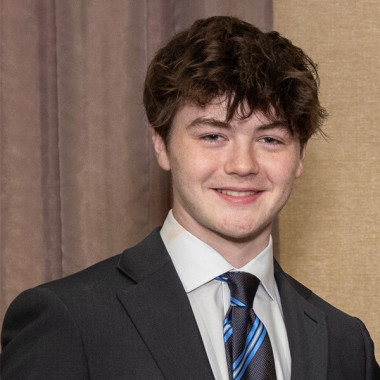 Intern Spotlight: Lucas Goldfarb
September 26, 2023
Lucas Goldfarb, a rising sophomore at The George Washington University, spent this summer interning with NAI Puget Sound Properties (NAI PSP) under Senior Vice President Hans Swenson and Partner Tamir Ohayon. His drive to expand his base of knowledge led him to this internship at an earlier point of his education than many previous interns. Our internship program provides students with a unique opportunity to see commercial real estate in action, and specifically how NAI PSP operates as a company.
During his months with NAI PSP, Lucas worked on a variety of tasks. He helped with database building - both creating new territory databases and calling the property owners that were added. He conducted zoning research, searching for lists of available properties for prospective buyers and tenants. Lucas also gained some experience with commercial real estate legal documents, assisting in the preparation of draft lease agreements and letters of intent.
We wish Lucas all the best as he begins his sophomore year at The George Washington University, and hope that the knowledge he gained during his time with NAI PSP serves him in his future career path! Before he left, we asked Lucas to reflect on his time.
How did you first learn about NAI?
I first learned about NAI when I was talking to my dad about how to get involved in real estate and he mentioned our family friend Tamir who is a commercial broker. I had met Tamir a few times at that point and got on the phone with him. I was then introduced to Hans who eventually offered me an internship.
How have you applied your major through your internship?
I don't declare my major until the end of my sophomore year but I'm leaning towards majoring in Finance with a concentration in Real Estate which is very applicable in understanding how the transactions and financial aspects of real estate brokerage work.
What is the most valuable thing you have learned at NAI PSP?
The most valuable thing I have learned at NAI PSP was the careful attention and care it takes to maintain a relationship and build trust with a client. I was fortunate enough to watch how more senior brokers interacted with their clients and came to the conclusion that they saw their clients not as business partners but rather as genuine friends.
Describe working at NAI PSP in 3 words.
Collaborative, Professional, Encouraging
What is your favorite building in the Puget Sound Region?
My favorite building in the Puget Sound Region has to be the Old Rainier Brewery. I was lucky enough for Hans to take me on a tour of a space inside of the building and the intriguing architecture mixed with the unique colors and historical elements of the building make it a key landmark of the Seattle Area.
What's your hidden talent?
My hidden talent is that I can spin most equally weighted flat objects on my finger, I haven't found it to be useful yet but it's a good party trick.
Tell us about the weirdest job you've ever had.
I haven't had any particularly weird jobs but the most unpredictable job day to day was being a preschool teacher for a summer.