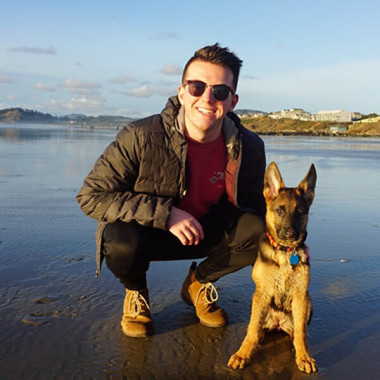 Intern Spotlight: Austin Niesner
September 26, 2017
Austin Niesner is in his senior year at Oregon State University majoring in Marketing. He has been working in an internship capacity for us for the past three months. The internship, even though it includes the actual operation of the business, is like training which would be given in an educational environment. The program is designed to provide a working perspective of the commercial real estate industry and NAI Puget Sound Properties.

Some of Austin's primary responsibilities included marketing support for current listings, prospect database development/management, research, and miscellaneous special projects. The position emphasis was on market knowledge and general commercial real estate knowledge. He participated in selective team meetings with the objective of developing current/future business.
During his time at NAI Puget Sound Properties Austin assisted Arie Salomon, Jeff Forsberg, and Patty Bell. We want to wish Austin all the best in his final year at college. Before his departure, we sat down with Austin to talk about his time here at NAI PSP – here are a few of his thoughts:
How did you first learn about NAI?
I had always thought about going into real estate but I wasn't sure where to start. When I had brought it up to my parents, they got me in contact with their broker, Arie Salomon. I met with him and members of his team and was interested right away. They offered me an internship and I quickly accepted.
How have you applied your major through your internship?
Marketing is a very important aspect of commercial real estate. I learned that brokers have to be constantly marketing themselves in order to gain customers and establish relationships. During my internship, I helped put together many different marketing packages.
What is the most valuable thing you have learned at NAI PSP?
The first thing people usually think of about brokers is that all they do is go on tours and sell buildings. I learned that it takes a lot more than just being good with people in order to become a broker. There is a great deal of behind-the-scenes work that has to get done as well. Researching properties & clients, making calls, and working with other brokers are all important aspects of the day-to-day job.
Describe working at NAI PSP in 3 words.
Fast-paced, professional, and collaborative.
What is your favorite building in the Puget Sound Region?
My favorite building is the Smith Tower. Once the tallest building in Seattle, it stands as a reminder of the progress we've made. Surrounded by modern skyscrapers it adds a historical feel to the growing Seattle skyline.
What's your hidden talent?
One of my hidden talents is that I can flutter my eyes. It's not a useful talent but it's a great conversation starter.
Tell us about the weirdest job you've ever had.
I've never really had a weird job before, but the most interesting was working retail at Nike. I had to interact with a wide variety of people and most of the time there were huge crowds that would flood the store. It was very overwhelming working long shifts and constantly dealing with multiple customers at once.