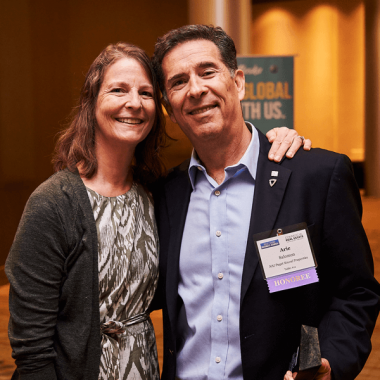 Arie Salmon Shares His Journey to Commercial Real Estate at the PSBJ Commercial Real Estate Leadership Awards
September 22, 2023
Our team had a wonderful time attending The Puget Sound Business Journal luncheon for the honorees of this year's Commercial Real Estate Leadership Awards. During the event, Arie Salomon graciously accepted the Dealmaker of The Year award and took a moment to reflect on his remarkable journey.
Arie briefly shared a glimpse of the path to his career, which began with his service as a tank commander in the Israel Defense Forces, instilling in him the confidence that he could overcome any challenge. Following his service, he had aspirations to travel to Seattle to study at the University of Washington and earn his Bachelor's degree in Business Administration. Initially, he had no intention of settling in the city, but fate intervened when he fell in love with both the city and his now wife, Amy Salomon.
His entry into the world of commercial real estate (CRE) wasn't without obstacles; as in 1990, only one firm was willing to take a chance on him. Despite his unique accent, limited experience, and lack of industry connections, his determination to prove himself as a CRE broker was unwavering. During his speech he recounted a common industry phrase at the time, 'stay alive until '95,' eliciting laughter from the audience. He attributed his early success to one of his first institutional clients, Pacific Gulf Properties, who entrusted him with leasing a multi-tenant industrial property in SeaTac. In just nine months, Arie successfully filled the building, establishing a lasting client relationship with Pacific Gulf. Since then, Arie has partnered with numerous institutional clients, transforming their commercial real estate goals into reality. With his incredible talent, dedication, and genuine passion for this business it's no wonder he's become the accomplished broker he is today.
It was a privilege to have the Puget Sound Business Journal recognize his hard-earned achievements, and we congratulate all the honorees for their outstanding contributions to the Commercial Real Estate Industry.
Related Articles: