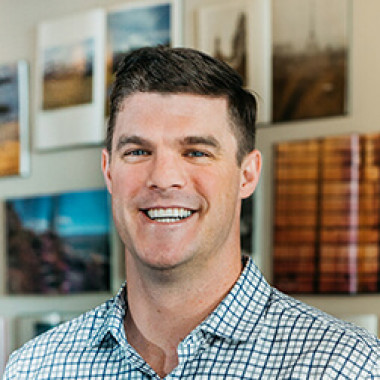 Meet the Team - Connor Powell
Connor Powell joined our team in 2015 after spending several years as a special education teacher and coordinator in Cameroon, Africa. He trained under the leadership of Arie Salomon and Jeff Forsberg and has since built a strong reputation for his commitment to his clients. His recent promotion to Senior Associate is a reflection of this commitment and the value he's added to our team. We recently sat down to talk to him about his favorite part of working in commercial real estate, how he chooses to approach his work and why he chose to join our team. Video and full transcript below (with a special appearance from Finnegan Powell).
What is your favorite part of working in the commercial real estate industry?
My favorite part of being in the commercial real estate industry is all the variety of people you meet. I meet business owners and managers and CEOs and CFOs and warehouse workers from all walks of life and from all over the place. One of the key features of meeting all these people is that I'm usually meeting them to help them solve a problem – that's one of the things I really love about working commercial real estate – you have all these variables, whether it's your square footage or your clear height or your dock doors or your shell rate or office rate or location. Go down the list and you can have 50 variables and each of them has a certain weight and every client gives different weight to all those variables so every time I work with a new client it's a new equation, a new problem to solve. That's something I really enjoy. It's like I face something new every day. That's kind of what drives my passion and my interest in real estate. There's always another way to solve the problem. If you can find that and thread the needle and hit a home run for your client… that's what we're all working for.

How would you describe the way you approach your work?
My grandpa used to always say, "the harder you work, the luckier you get" and I like to be lucky. So I work my tail off and that's the only way to really do it. Either you're gonna commit one hundred percent and get after it, or you need to tell your client that you don't have the resources or the time to provide what they need. I always try and take that perspective: If I was in this client's shoes, would I want somebody to give the level service I can provide? If I can't provide that level of service, I shouldn't be working with these people. I should be telling them to find another person or referring them out to another person in my office or within the industry.
Why did you choose to join NAI Puget Sound Properties?
I joined NAI Puget Sound properties about three years ago and had the opportunity to run under two of the most experienced and, really, best brokers in our market: a guy named Arie Salomon and Jeff Forsberg. Being under those guys and having their leadership and their mentorship has made me not only a better broker but a better person. They're genuinely two good people. It's very good to run under these guys that are straight shooters – they're there to represent their client and get their client the best deal possible. Having someone that I can follow both on a strategy and how to be a good broker point as well as how to be a good person or a good father or whatever combination it is; They're two people I really look up to.