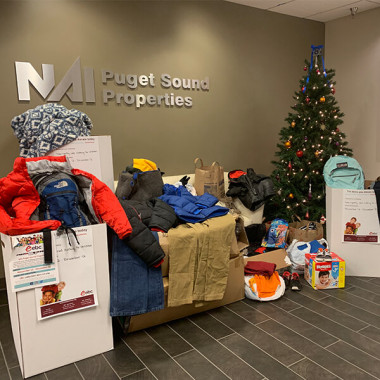 Community Involvement: Eastside Baby Corner 2018
This holiday season we partnered with Eastside Baby Corner (EBC) to help local kids be "Dressed for Success". We collected new and gently used clothing and items for school-aged children up to 12 years in all three NAI Puget Sound Properties office locations. We also collected monetary donations to help EBC better manage their inventory of the most essential items for kids' health and development. Together, we raised a total of $1,395.
In addition to the clothing drive, we did a volunteer event dropping off all of the donations received in our offices and helping with inventory organization at EBC's warehouse. Some of our tasks included: sorting clothing, sorting shoes, packaging formula, and taking inventory of received items.
"Serving a broad area across King County that extends to the Cascade foothills and from south of Renton into south Snohomish County, EBC serves as a diaper bank, a clothing bank, and a food source for more than 800 kids each week. EBC leverages the impact of direct service providers by providing essential goods to the families they are helping…EBC is the major source of baby food, formula, diapers, cribs and car seats for eleven local food banks." Eastside Baby Corner is passionate about providing the absolute essentials for the most vulnerable children in our community. To learn more about them, visit: babycorner.org.