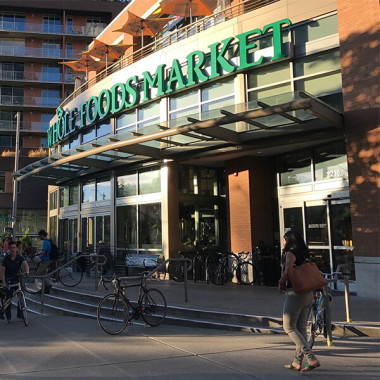 Broker Outlook: Amazon – Whole Foods Acquisition

When Amazon announced its acquisition of Whole Foods Market, Inc., it immediately challenged the resilience of current grocers. Within hours after plans for the $13.7 billion deal went public, the stocks for top grocers, among them Costco, Kroger and Walmart, took a hit. For many investors, the deal recalled several retail closures, most notably, the fate of the once prominent bookstore chain, Borders. Amazon has left a mark: In only 22 years in business it has dramatically altered consumer habits and expectations, upended traditional business models, and changed commercial real estate needs.
Three of our brokers, Steve Balkman, Barry Kelly and Ryan Olson, shared their thoughts on what Amazon's strategy may be for the acquisition and what impact the deal may have on investors, grocers and the local market.
A Brick-and-Mortar Investment
Amazon dominates e-commerce, accounting for over 43% of all online purchases. Yet in recent years the company has been expanding its retail footprint. In 2015 it opened the first Amazon Books in Seattle's University Village, and has since opened an additional 7 stores across the United States. Furthermore, it had already been experimenting with new ways to reinvent grocery shopping prior to the Whole Foods deal. It currently operates two grocery pickup locations in the Seattle neighborhoods of Ballard and SODO and one check-out free Amazon Go store in South Lake Union. If the Whole Foods deal closes, the e-commerce giant would become a real contender in the grocery market with over 460 stores in prime locations across the US, UK and Canada.
"Amazon is taking over the world!" Steve exclaimed. "It's trying to get into every facet of business and consumer life."
As much as e-commerce is changing the industry, brick-and-mortar still accounts for 90% of all sales. There is still a clear advantage to having a physical presence. Ryan explained, "It's about being close to the consumer. [E-commerce] is as close as your computer screen, however, there's still that distance – perceived distance."
But it's not all physical. To Barry, the deal is also about information. "It's really the data that they're after – how consumers think, how they shop." This deal would provide Amazon with a vast amount of data on in-store shopping. Customers shop differently online than they do in store and, as giant as Amazon is, brick-and-mortar is still new ground for them.
Inexperience running a physical store might be worrisome for another retailer, but apart from having robust resources to pull from, Amazon has thrived not by adapting to an industry, but by disrupting it.
"If anything this is an advantage," said Barry. "They maybe won't fall into the traditional pitfalls or things that [grocers] 'know to work' that really don't work."
Merging Industrial and Retail Space
Whereas the location of distribution centers was previously driven by cost, with many companies choosing to house their warehouses on the outskirts of town or rural areas, demand for industrial space in metropolitan areas has surged. Companies are vying to get closer to the last-mile hub for faster delivery, but limited availability and higher pricing are driving a search for new solutions. Several areas have started transforming previous retail centers into distribution ones, leading many to believe distribution was a big factor in the Whole Foods deal.
"If Amazon is in Whole Foods I guarantee that a portion of every Whole Foods will be dedicated to delivery." said Ryan. "Amazon has figured that out. They know delivery."
Retail experts have done the homework to find central locations within miles of their prime demographics and now they're applying that to the industrial sector.
"I think this acquisition is about accessing the demographic with more expendable income, and Whole Foods gives them that," Steve added. A recent study by Quartz found as many as one-third of American households with annual incomes over $100,000 live within 3 miles of a Whole Foods.
Puget Sound and the Amazon Effect
Nowhere is Amazon's presence more prominent than in the Puget Sound area where it occupies approximately 3.4 million square feet of industrial space and over 8.8 million square feet of office. Current development projects put it well on its way to occupying over 13.5 million square feet of Seattle's office space by 2022. And as Amazon grows, so does its headquarter city. The Amazon boom has driven an influx of new residents to the area, driving demand for commercial real estate and spurring new development.
"The strength of Amazon is crystal clear when you walk out the doors in Bellevue or Seattle" Ryan states. "Amazon's 10 million square feet of office space in this area speaks to the strength and longevity of them as a company. Any more, I can't imagine Seattle without them."
For more information:
Big Prize in Amazon-Whole Foods Deal: Data
Amazon's Whole Foods Acquisition Is A Smart Logistics Play
Ahead of Whole Foods deal, Amazon planned major expansion of checkout-free grocery stores