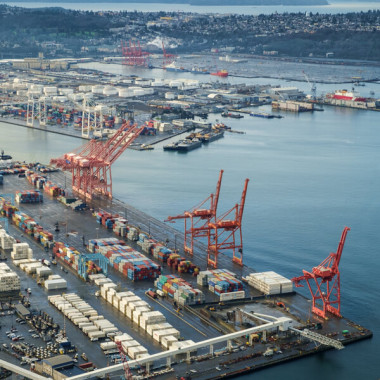 U.S. China Trade War Tariff Impact on Puget Sound Commercial Real Estate
We sat down with Dave Douglas, SIOR, CCIM and Bob Swain, CCIM, who both specialize in industrial leasing and sales, to get their expert opinions on how the current U.S. China Trade War is affecting commercial real estate around the Puget Sound.

The U.S. China Trade War has impacted industries across the economy including commercial real estate. The imposed tariffs include foreign steel, aluminum and thousands of goods from China. "There has been a significant reduction in products moving in and out of the ports of Seattle and Tacoma because of tariffs and the trade war. As of last August, imports were down $2B, or 11%, year over year. Exports to China in the same time frame were down 20.32%, or $509M," Bob noted. Companies big and small have had to adjust pricing and their supply chains while trying to navigate the new tariffs. In the Bank of America survey, 61% of business owners said they were paying more for goods and supplies due to the tariffs.
"The major impact tariffs have had on the CRE market was increased in cubic footage utilization. Importers ordered goods well prior to the implementation of year-end tariff increases, resulting in increased inventories needing storage prior to final deliveries," Dave explained. "This, however, is temporary; additional square footage has not been leased as most businesses understand the demand for products will drop as prices increase to cover tariff costs. The Northwest Seaport Alliance has seen a pretty significant reduction in year over year cargo volumes as a result of the trade war, and now, with COVID-19, we expect lower volumes for the short term to be a continuing trend."
According to Bob, "because we are a major Port region, our economy is being hit harder than the middle of the country because the industries and labor that are involved in loading and unloading ships and transferring cargo across the region and the country are not moving as much freight. Additionally, our agricultural economy across the state is being hit hard by not being able to sell products overseas competitively. On the CRE front, I believe we have seen a slight slow down in some tenants taking on more space until they see some light at the end of this trade war tunnel."
The Seattle Times reported that Washington merchandise exports fell 22% last year compared with 2018. Washington is America's most trade-dependent state, based on the number of jobs supported here. Bob mentioned "it has been hard on clients that rely both on raw materials coming into the country for manufacturing, and on the manufacturing side that is done overseas for markets around the world. Materials such as rubber, steel, electronics, and plastics have seen wholesale pricing jumps from 20%-50% just from the tariff add-ons. These costs get passed on to vendors and end-users in even higher mark-ups."
However, both brokers are optimistic that these effects are only temporary. "Despite the temporary surge in space utilization, our market demand will likely remain strong after the tariff impacts are absorbed. Most of our new space demand seems driven by e-commerce, with the balance [being] a product of stable, ongoing demand from our traditional distribution and manufacturing users. Strong population growth in Seattle and Western Washington continues to drive high occupancy levels across the commercial/industrial sectors" said Dave. Bob added that he "would like to be optimistic that the recent news on a trade deal with China and with the new USMCA with Canada and Mexico deal. However, the proof will be in the actual results and not in the press releases."