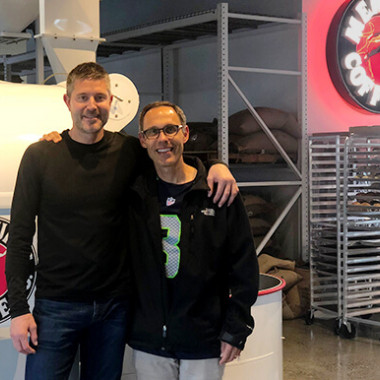 Mercurys Coffee Opens New Roastery in Bellevue's Plaza 520
The new Mercurys Coffee roastery opened its doors on September 28th, 2018 to a long line of eager customers anxious to see the space that had been under renovation for almost two years.
At 5000 square feet, their new Bellevue location at 13102 NE 20th St is significantly larger than other Mercurys Coffee shops. It boasts enough room for a state of the art roaster, an in-house kitchen and plenty of indoor and outdoor seating. Tall windows brighten up the shop and make it feel even more spacious. It's an impressive space – the culmination of years of planning, negotiations and construction.
Ironically, the lease started with a tour of a much smaller retail suite in the same plaza.
Billy Poll, Plaza 520's listing broker, contacted the owner of Mercurys Coffee to offer him a tour of a corner suite he believed would be a great fit for a coffee shop. He'd met Morgan Harris on previous occasions and knew a tenant with a reputation like Mercurys Coffee could add a lot of value to the property. However, Morgan was more intrigued by the larger suite in the center of the plaza – a former tile store big enough to accommodate a roastery concept he'd had in mind for years.
The suite has excellent visibility from NE 20th Street and high traffic counts, but it would require extensive tenant improvements to meet FDA regulations and the vision Morgan had in mind. Additionally, Morgan's design for the exterior would deviate from the aesthetic of Plaza 520 – a detail the landlords would be hesitant to approve. Even with the extensive negotiations ahead, Billy recognized the landlord and tenant's goals had great symmetry. He negotiated on behalf of both parties to execute a mutually beneficial ten-year lease that resulted in a unique gathering place for the Eastside.
Sitting at the coffee counter, it's clear to see the sense of community a place like Mercurys Coffee brings to an area. The increased foot traffic to the plaza is evident with a quick glance at the counter line. At 3pm on a weekday, the staff is busy attending a long line of customer. Several of the customers are people who work in the surrounding suites at Plaza 520.
One of the staff members tell us of the neon sign by the kitchen. It's the sign from the original Mercurys Coffee in Woodinville that Morgan and his father built together almost 20 years prior.
"One of the best parts of my job is getting to see my clients' vision come to life," said Billy. It's always a plus when the vision includes freshly baked pastries.
Billy Poll and Dean Altaras represented the landlord and the tenant in this transaction.