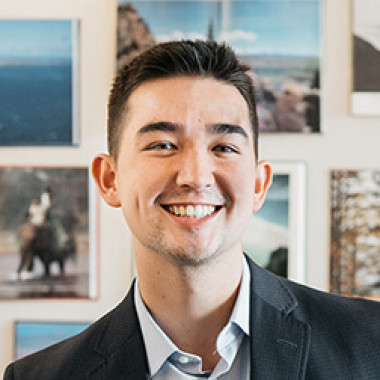 Meet the Team - Talor Okada
Talor Okada joined NAI Puget Sound Properties in 2016 shortly after graduating from Seattle University. In the short time he's been working in commercial real estate, he's proven to be a hard working, dedicated broker and teammate – just one of the many reasons why he's been such a great fit for our team. In honor of his recent promotion to Senior Associate, we sat down with Talor to talk about CRE: his favorite parts, how he approaches his work and a few surprises. Video and full transcript below.
What is your favorite part of working in the commercial real estate industry?
My favorite part of working in commercial real estate is probably the different businesses that we get to deal with. I think in a lot of different advisory jobs you're dealing with a lot of similar businesses over and over again. The different types of uses that we get keep it exciting and interesting. It also helps you refine your skills working with so many different businesses because you have such a broad background of experience to work with moving forward in your career. I think that's probably my favorite thing about commercial real estate.

Who helped you get started in your career?
I got to get going underneath my dad so I had a 24 hour on-the-call advisory for my advisory position. He liked to joke that he was the broker to the broker. His help and all the other partners and principals in our firm helping, their guidance and advice throughout the beginning of my career, really helped me skip some tough steps that they went through in their careers and really helped get me on the right path from the get go.

Is there anything about the job that has surprised you?
I had my own opinions about commercial real estate when I first got in. It looked like a lot of golf, a lot of fun, you know, choose your own hours. What surprised me was the work ethic instilled within me to be a self-starter – to wake up every day at a time that no one else is telling you, go home at a time that no one else is telling you. You choose your own schedule and you work those long hours and you really do reap what you sow; you get what you put in.

How would you describe the way you approach your work?
Our market is really unique in the fact that it's so competitive. There's such low vacancy, rates are constantly climbing and changing. We really have to be on top of the market to give great advice to our clients who aren't following these rates, these concessions, these different deals every day like we are.
I always want to do what's best for my client. I want to speak honestly on my experience and what I know of the market. Our clients expectations often are much different than the expectations we have for a transaction and being able to get them more on line with what's market while also maintaining a lot of integrity and making sure you're doing what's right for them is a challenge and something that we have to focus on each and every day.
I have to be on top of every detail. I know the details of every deal that got done that way we can get the best deal for our client because at the end of the day that's our primary goal. To make sure it's a service they're satisfied with and we'll keep coming back to use.