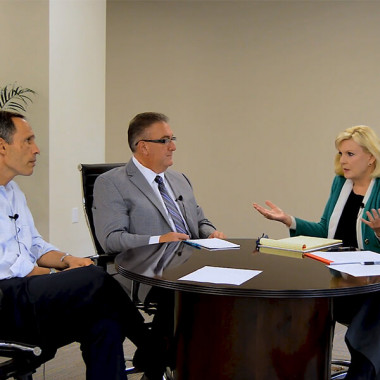 Broker Outlook: Housing Affordability and Livability Agenda
In an effort to balance the expansion of Seattle's housing availability with regulating rent prices, developers have been offered the "grand bargain:" you can build higher and denser as long as you set aside a percentage of your building to be priced as affordable housing or pay a fee per square foot back to the city to fund affordable housing elsewhere.
Four of our brokers, Billy Poll, Rich Mermelstein, Janet Backus and Dean Altaras, met to discuss the changes the Seattle up-zones could bring to the city's property owners and developers.
What do the Up-Zones Do?
The Housing Affordability and Livability Agenda (HALA) created the Mandatory Housing Affordability program (MHA) in an effort to provide affordable housing for families who are making 60% or below the median income, which in Seattle is now about $80,000.
Seattle's population, fueled by a thriving economy, is rising at a rapid pace. Job growth is currently outpacing housing in Seattle; nearly two jobs are created for every new permit for a housing unit. Ten years ago this rate was much more steady, about 1 to 1. The increased demand and lagging supply are driving rents to an all time high.
"There is a crisis going on where we don't have affordable housing to supply to people because it's taking more than fifty percent of their income." Janet explained.
In an interview with Bisnow, former HALA committee member Kristin Ryan described several goals of the MHA; to create mixed-income buildings, protect small retail businesses, and to increase access and livability for the people who are interacting with the city.
While some neighborhood zoning changes have already been approved, such as the U District, Chinatown-International District, South Lake Union, and certain sections of the Central District, other neighborhoods like Lower Queen Anne are still in proposal or voting stages.
The cost to the developer varies by neighborhood. For one example of how the up-zoning affects developers, parts of the Chinatown-International District up-zone require that 7% of the units in a building be rent-restricted so that families making no more than 60% of the median income in the area would be able to afford them, or the developers can pay $20.75 per square foot to the city; ideally to fund affordable housing on other unused public lands. Other blocks in the neighborhood require 5% of units be set aside or an $8.00 per square foot fee.
Will Up-Zones Help or Hinder Development Projects?
Our brokers had varying responses to the zoning changes.
Some brokers had reservations about the up-zones, primarily due to the expense it would create for developers. They believe HALA's profit incentive is "somewhat of a misnomer" when considering the added costs on development. A shortage of construction labor and rising land costs have already been putting a strain on developers; The added fees and restriction, they feared, could have adverse effects.
Rich expressed concern that some existing property owners will have a skewed idea about the impact the upzone will have on their properties' value. "Existing landlords are going to have the perception now that their properties are going to be very, very valuable and off the chart, but the truth is the city's taken all of that profit out. The cost for the affordable housing is very expensive to the developer."
"As [development] fees go up something's gotta give somewhere," Dean added. "I don't know what that's gonna be – either higher rents or depressed values of land."
Later in the discussion Rich brought up how much demand can drive rent prices:
"It comes down to supply and demand…I think where the city's gotten off-course here is that they restrict the developers for supplying [units]…if we have a housing problem in the city, then let's build more housing."
City Councilmember Rob Johnson stated a similar concern when it was suggested that percentages and fees to accommodate affordable housing be increased in the South Lake Union neighborhood; Johnson argued that raising the requirements might actually hinder development.
Yet others believe demand and the health of the local economy are strong enough to continue to drive profits and attract investors.
Janet Backus, for example, had received relatively positive response to the zoning changes: "I don't hear any developers that we deal with complaining about the [up-zones] … actually I think they view it as a plus. They can make the decision 'do I pay into this fund, or do I want to put that affordable housing component on my property?'" Giving developers the choice between paying the fee or allocating space, she explained, would allow them options when weighing cost vs gains. In zones where the fees are lower developers could opt to pay the fee and still turn a profit. "They will make up for [the costs] with rents," Janet stated adding that current rents are already higher than what they would have predicted two or three years ago.
Dean Altaras, on the other hand, has seen developers rush to get projects approved before the up-zones were enacted so they would not have to worry about allocation of units, paying fees or even building higher. He gave the example of one Capitol Hill property he has been working on: "It was interesting, as we were marketing this property there was kind of a race to get the project tied up and get it entitled before these guidelines actually go into effect." Dean noted that some developers see the up-zone benefit as "negligible;" building higher could create additional headaches based on cost.
Additionally, Dean was not optimistic about the "in-lieu" fee being properly and efficiently used: "One of my concerns from doing all my research…is nowhere do I see a discussion about paying the fee in lieu of providing actual units. So, where does that money go, how is it managed, how are they going to put that to work in building affordable projects?"
Shifting from private development to public development poses certain complications; private development has the potential to be completed much faster than public development. Billy Poll also expressed his concern for the city taking on the expensive development process: "The city's going to have to hire a new department of developers, merchant developers, to do that for [the city], that just seems like kind of a black hole."
Good Problems to Have
Despite the changes the up-zonings will bring, development continues to skyrocket throughout the city. As of January this year, the skyline was dotted with a record 62 cranes, making Seattle the "crane capital of America" for the second year in a row. Nearly 150 major development projects are lined up to begin in the coming years. Many of the crane projects are located in neighborhoods that will be affected by the up-zone; such as South Lake Union, the Central District, and Capitol Hill.
Generally our brokers noted the increase in density is necessary and could be a potential positive for the city. "We are making moves to create infrastructure to support that with transportation." Dean added, "I think that's a positive."
"I think that when you look at all of this, these are honestly good problems to have," remarked Billy Poll.
"Seattle is no longer the best-kept secret on the West coast. We're dealing with the growing pains of being considered one of the greatest places to live in the Northwest."